Instagram is one of the top social media platforms that everyone uses. Building a following is a difficult task but necessary to drive people to your business to make sales. It's important to post regularly to keep your audience engaged. But posting at certain times can be easier said than done when you have a lot of other tasks to do.
How can this be solved?
To be effective and save your time for other tasks, there are multiple ways to post without you manually doing it. Here are some ways that can help you.
1. Sendible
Sendible is a great tool for your Instagram. You can edit your photos with the canva integration and optimize them with the built-in editor. Once you're done, you can schedule single photos and videos to your profile. Unfortunately, you can't schedule carousel posts or stories however, you can also set reminders to go to your phone (using the app) for when you want to post them.
To help increase your reach and impressions, there are a couple of features you can use on your posts. A simple but effective feature is adding a location. After you have written your caption, you can use the hashtag selector to find the best hashtags for your post. When you are done, you can see a preview of how your post will look on your Instagram, so you have no surprises when it goes live. Another handy feature is the calendar, so you can view all your content and reminders for any time and date.
Price:
The subscription plans range from £21 a month to £299 a month. Depending on how many users and profiles you want to use, there are different plans suitable for you.
2. Content Cal
When you connect your social media accounts to Content Cal, you can have easy control over your content and your marketing ability. With the calendar available, it is easy to organise and schedule your posts. Whether you are in a small team or working for a large digital media house, ContentCal will be great for you as it has a strong focus on planning and collaboration. You also can create templates that you can keep reusing for all your future posts. If you can't think of content to make, or if you don't have time, you can find a feature on ContentCal to reuse published content and change the captions. It is easy to monitor the performance of your content and spot what you need to work on, using the graphs and charts that are made. You can export these analytics into a PDF to keep in your files for progress reports. One thing that could make you pick ContentCal over others is the ability to schedule your stories.
Price:
There are 4 subscription plans for you to pick from. $17 a month to $47 a month. However, if you pick custom packages, the price will vary.
3. Hootsuite
Hootsuite is a well-known tool that lets you schedule single image and video posts to your business account. If you want to post stories, you can only set alerts to remind you to post, using the app. This is also the case for carousel posts. A great benefit of using Hootsuite however is the Bulk Composer feature. This allows you to upload and schedule a large number of posts at one time. With the help of the Planner, you can easily view your schedule and make any edits needed. Make the most of the AutoSchedule and use custom settings to post content consistently to maintain engagement from the audience.
Price:
When it comes to price, it will change depending on what suits you. The price ranges from $40 a month to £520 a month.
There are many features that come with the different plans.

NOTE: If you want to try this out, you could start with the limited free plan that allows you to use 2 accounts and have 5 scheduled messages for one person.
4. Later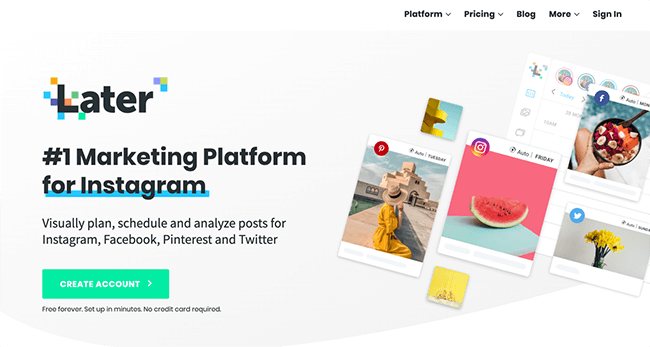 Later is a great tool that allows you to plan and schedule single photo and video posts. You can also schedule Stories and Carousels to publish via mobile notifications. There is the option to add geographical tags and user tags as well. If you have limited time on your hands you can use the Quick Schedule to prepare a large bulk of posts at once. If you are on a pc or laptop, you can just drag-and-drop files and schedule them in seconds. One great thing about Later is you can schedule your first comment to publish at the same time as your post. This is helpful to get your hashtags out there quicker.
Are you conscious of how your feed will look after your post? Later can show you if you drag and drop photos to see how they'll look in your feed. You'll not have to worry about how your 9-grid will look ever again. The calendar lets you view weekly or monthly, so you can easily get a complete look at what's coming, and where else you can add things. A great thing that can help you is you can filter it to show multiple accounts or individual accounts.
Price:
The prices for Later range. You can pay from $12.50 a month to $33.33 a month, depending on the package. If you wish to use this for a personal account you can use the free option which is free forever!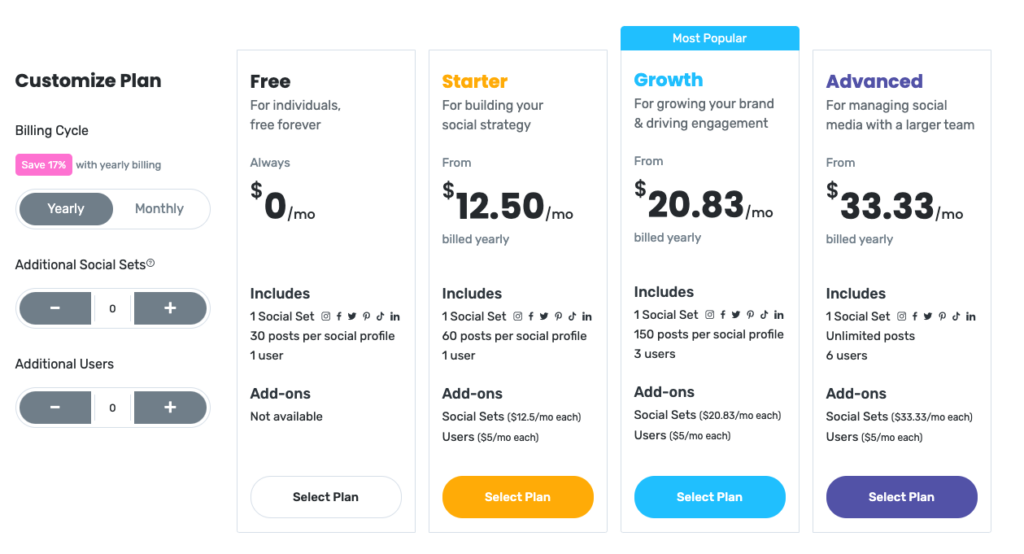 5. Tailwind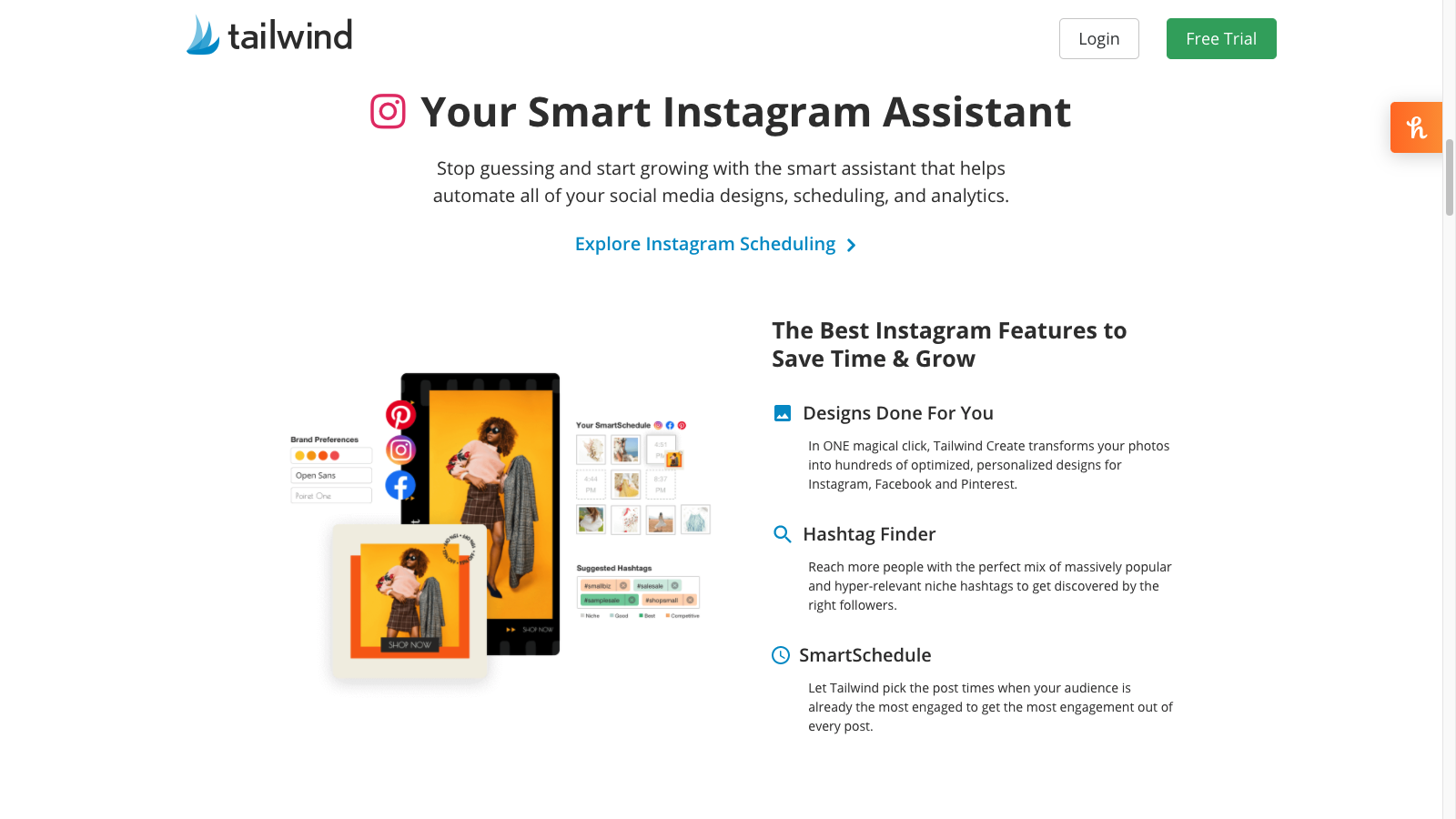 Tailwind is similar to Sendible, in the sense you can schedule a single image and videos but schedule reminders for your Stories and Carousel posts. But what makes it stand out is the SmartSchedule feature. Tailwind will be able to see which times your audience is active the most and post automatically at that time. This will help optimise your potential reach and engagement from your followers. You can also play around with the settings to pick specific times to post, how many times a day, and how spread out they should be. You can easily plan and organise your calendar on Tailwind with an easy drag-and-drop to manage all of your scheduled content. If you have a large number of files to post, you can log in on your computer and bulk upload them with ease. Struggling to think of content to post? Tailwind has Content Plans to help you never have this issue again. When you are done, you can see how it will look on Instagram with a 9 grid preview.
Price:
The price ranges from $9.99 a month to $39.99 a month. The package you go for will depend on how many accounts you want to link and how many posts you want to schedule each month.
You could start with the free forever plan, which gives you the essential features. Then if you like it and want more, you can upgrade.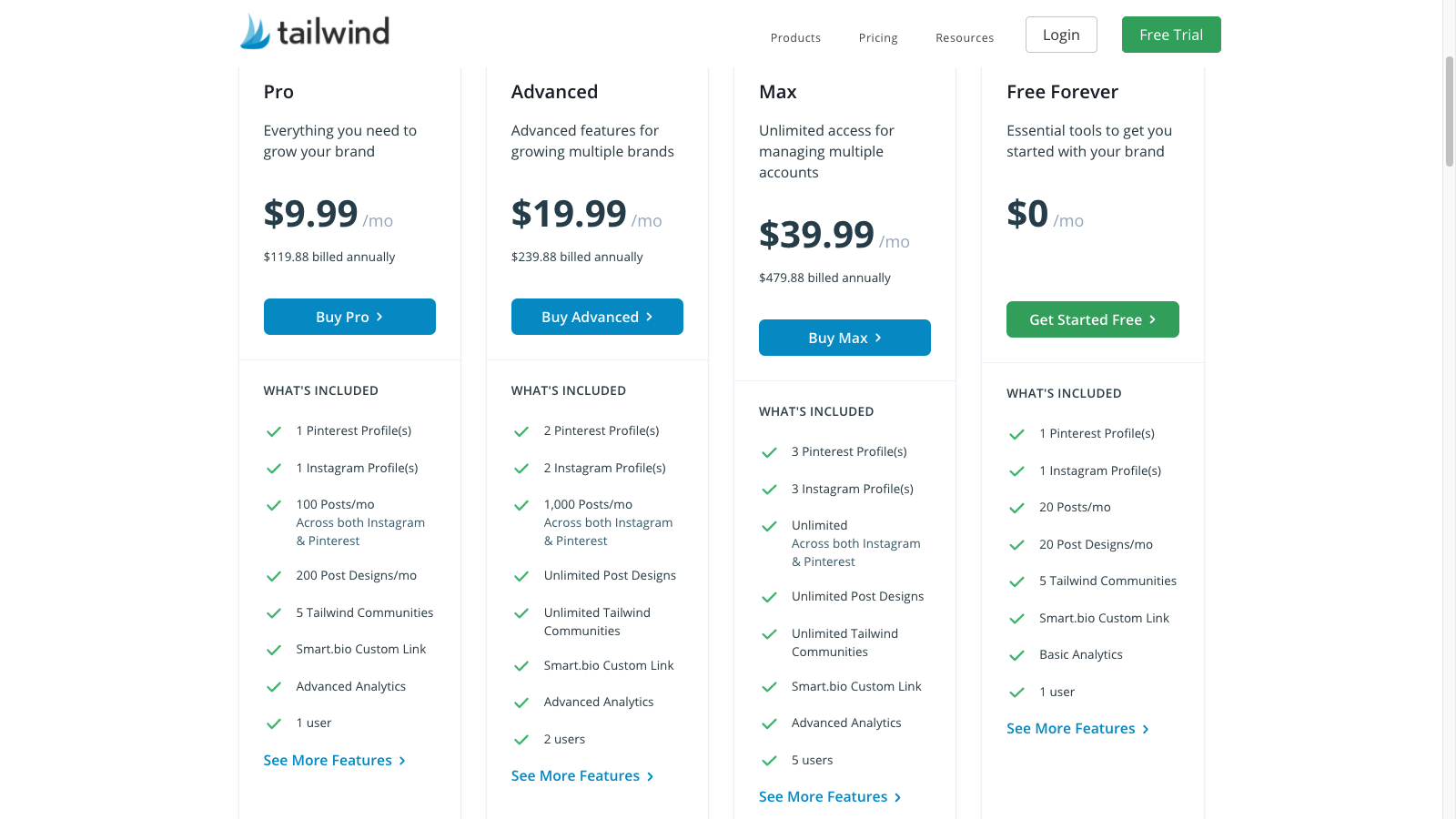 Which one will you use for your scheduling? Let us know in the comments below.